Overview
Heel spur is a thorn-like,
bony
protrusion of the heel bone, which can become inflamed through irritation, thus causing pain. A heel spur forms at the tendon attachments on the muscles of the heel bone as a result of micro-injuries to the tissue caused by overstraining. As part of the healing process for these micro-injuries, the body stores bone material in the tendon attachments as a repair mechanism. Heel spurs can develop over a very long period without causing major complaints. However, irritation of the area surrounding the ossified tendon attachment can cause inflammations. Left untreated, the inflammations can in turn lead to increased ossification and thus to permanent degradation with a risk of chronic manifestation. The normal rolling procedure that we all use when walking is then frequently no longer possible.
Causes
You are more likely to develop plantar fasciitis and heel spurs if you are Active. Sports that place excessive stress on the heel bone and attached tissue, especially if you have tight calf muscles or a stiff ankle from a previous ankle sprain, which limits ankle movement eg. running, ballet dancing and aerobics. Overweight. Carrying around extra weight increases the strain and stress on your plantar fascia. Pregnant. The weight gain and swelling associated with pregnancy can cause ligaments to become more relaxed, which can lead to mechanical problems and inflammation. On your feet. Having a job that requires a lot of walking or standing on hard surfaces
ie
factory workers, teachers and waitresses.
Flat
Feet or High Foot Arches. Changes in the arch of your foot changes the shock absorption ability and can stretch and strain the plantar fascia, which then has to absorb the additional force. Middle-Aged or Older. With ageing the arch of your foot may begin to sag - putting extra stress on the plantar fascia. Wearing shoes with poor support. Weak Foot Arch Muscles. Muscle fatigue allows your plantar fascia to overstress and cause injury. Arthritis. Some types of arthritis can cause inflammation in the tendons in the bottom of your foot, which may lead to plantar fasciitis. Diabetes. Although doctors don't know why, plantar fasciitis occurs more often in people with diabetes.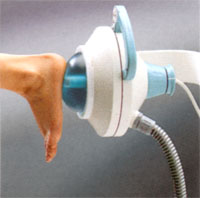 Symptoms
Most bone spurs cause no signs or symptoms. You might not realize you have bone spurs until an
X-ray
for another condition reveals the growths. In some cases, though, bone spurs can cause pain and loss of motion in your joints.
Diagnosis
Most patients who are suffering with heel spurs can see them with an
X-ray
scan. They are normally hooked and extend into the heel. Some people who have heel spur may not even have noticeable symptoms, although could still be able to see a spur in an
X-ray
scan.
Non Surgical Treatment
Rest won?t help you in case of pain from the heel spur. When you get up after sleeping for some time, the pain may get worse. The pain worsens after a period of rest. You will feel pain because the plantar fascia elongates during working which stresses the heel. It is important to see a doctor if you are having consistent pain in you heel. The doctors may advise few or all of the conservative treatments, stretching exercises, shoe recommendations, shoe inserts or orthotic devices, physical therapy, taping or strapping to rest stressed muscles and tendons. There are some over-the-counter medicines available for treatment of heel pain. Acetaminophen (Tylenol), ibuprofen (Advil), or naproxen (Aleve) are some such medicines which can help you to get relief from the pain. In case of biomechanical imbalances causing the pain, a functional orthotic device can help you to get relief. Your doctor may also advise a corticosteroid injection for eliminating the inflammation.
Surgical Treatment
Heel spur surgery should only be considered after less invasive treatment methods have been explored and ruled insufficient. The traditional surgical approach to treating heel spurs requires a scalpel cut to the bottom of the food which allows the surgeon to
access
the bone spur. Endoscopic plantar fasciotomies (EPF) involve one or two small incisions in the foot which allow the surgeon to
access
and operate on the bone spur endoscopically. Taking a surgical approach to heel spur treatment is a topic to explore with a foot and ankle specialist.
Prevention
Heel Spur symptoms can be prevented from returning by wearing proper shoes and using customized orthotics and insoles to relieve pressure. It is important to perform your exercises to help keep your foot stretched and relaxed.